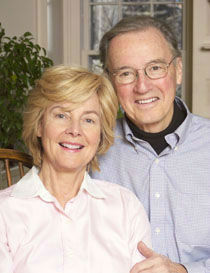 The splendor of the Church
---
Help us expand our reach! Please share this article
The last decade has been a horrendous one for our Church. Scandals have lead to more people leaving the Church, so that now 10 percent of Americans claim to be ex-Catholics. Others have become "cruise-control Catholics" taking their morality from the current fashions of our secular culture.

It is against this background that an extraordinary trumpet burst through the clouds. "Catholicism" is a new 10-part DVD series conceived and narrated by Father Robert Barron, now rector of Chicago's Mundelein Seminary. While he has the physical stature of an NFL linebacker, Father Barron gently addresses complex issues with candor, clarity and passion.

We watched the first episode four times before we could let it go. It traces the steps of our pilgrimage to the Holy Land nearly a year ago. Father Barron begins at the beginning, following the footsteps of Christ and the Apostles, but then takes us to 50 locations in 15 countries. Along the way, he opens up the Church's rich patrimony of science and art with visits to the Vatican Observatory outside Tucson, Ariz. to Glacier National Park, Mont. and to Santa Sabina in Rome.