'Quiz,' streaming, AMC Premiere
---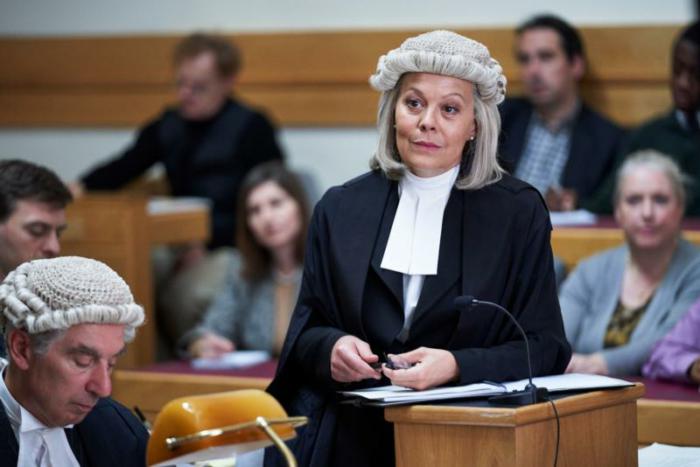 This is a scene from "Quiz" now streaming on AMC Premiere. (CNS photo/AMC and ITV)
Help us expand our reach! Please share this article
NEW YORK (CNS) -- Coughing and sneezing have taken on a new significance recently. But when is a cough more than just a cough? When it's used as a method of communication by criminals conspiring to steal a fortune.

That's the extraordinary premise of "Quiz," a gripping new courtroom drama now streaming on AMC Premiere in three hourlong episodes. The fact that "Quiz" is based on a real-life case involving a popular television program makes this series even more interesting.

In 2001, the British network ITV was badly in need of a ratings hit to challenge its rival, the BBC. Enter producers Paul Smith (Mark Bonnar) and David Briggs (Elliot Levey), who pitch a show called "Cash Mountain" to ITV programming director David Liddiment (Risteard Cooper).

Smith is convinced that the format, featuring multiple-choice answers, will appeal to the innate British fondness for trivia contests, a favorite pastime at the local pub. "It's not a game show. It's a quiz," explains Smith. "That's the joy of it. People love a good pub quiz, a uniquely British invention combining our two greatest loves, drinking and being right."

Seeking a television "event," Liddiment agrees to broadcast the show on consecutive nights, changing its name to "Who Wants to be a Millionaire?" to highlight the unprecedented top prize of one million British pounds.

Needless to say, the show is an instant hit, spawning versions around the world. In Britain, a frenzy ensues as enthusiasts jockey to become contestants.

Enter Diana Ingram (Sian Clifford) and her brother, Adrian Pollock (Trystan Gravelle), members of a quiz-obsessed family. Desperate to get on the show, they seek advice from an emerging underground network of fellow devotees run by Paddy Spooner (Jerry Killick).

In this pre-Google search era, Spooner and his minions act as an information resource to contestants, standing in as their "phone-a-friend" respondents to answer any question correctly in seven seconds or less.

Both Diana and Adrian qualify for "Millionaire," but neither gets very far in the quest for the top prize. So they turn their attention to Diana's husband, Maj. Charles Ingram (Matthew Macfadyen).

Described as "nice but dim" (even though he is a member of Mensa, the high-IQ society), the British army officer has no interest in quizzes. To appease his nagging wife, though, he agrees to be trained.

"Quiz" appears headed for a fairy-tale ending when Charles qualifies for the show and, to the astonishment of everyone -- including dumbfounded host Chris Tarrant (Michael Sheen) -- wins the top prize.

No sooner have the Ingrams become media darlings, however, than suspicions of cheating are raised. Reviews of the videotape suggest that Diana (seated in the audience) and a fellow contestant, Tecwen Whittock (Michael Jibson), helped Charles by coughing loudly when he proposed the correct answer. The trio is arrested.

Although the outcome of the court case is public knowledge, director Stephen Frears ("A Very English Scandal") keeps viewers guessing as to the guilt of the alleged conspirators, who are represented by showboating attorney Sonia Woodley (Helen McCrory).

The final answer? Occasional profane and crude language notwithstanding, "Quiz" is first-rate escapist fare for our times.

- - -

McAleer is a guest reviewer for Catholic News Service.