Cardinal launches annual Appeal
---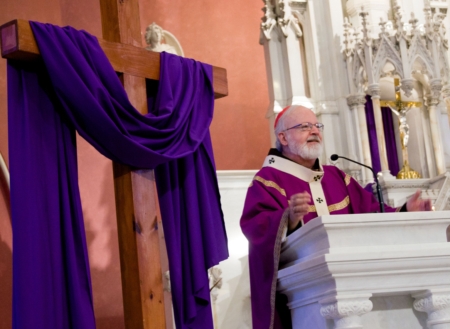 "Each year, we turn to the Catholic faithful to ask for your help to be able to carry out this mission that has been entrusted to us," Cardinal Seán P. O'Malley told parishioners at Holy Family Parish in Amesbury during a March 3 Mass to kick off the 2012 Catholic Appeal. Pilot photo/Christopher S. Pineo
Help us expand our reach! Please share this article
AMESBURY -- Cardinal Seán P. O'Malley kicked off the launch of the 2012 Catholic Appeal, "The Good Samaritan Is You," at Holy Family Parish in Amesbury at an afternoon Saturday Mass on March 3.

The Catholic Appeal launch continued across the Archdiocese of Boston with the cardinal and Vicar General Msgr. Robert P. Deeley celebrating Masses in multiple archdiocesan parishes.

The cardinal continued promoting the launch by celebrating Sunday Mass at Sacred Heart in Middleborough, the next morning.

Vicar General and Moderator of the Curia for the Archdiocese of Boston Msgr. Deeley celebrated Mass during the 2012 Catholic Appeal launch weekend at St. Eulalia Parish in Winchester, at St. Brigid Parish in Lexington and at Sacred Heart in Cambridge.

"We are blessed by the philanthropic support of more than 40,000 donors who generously give of their resources out of a desire to serve Christ's family and a commitment to our Catholic mission. It is remarkable to witness how these Good Samaritans' gifts are transformed into the ministries and programs that so many parishes, schools, families, and other individuals from all walks of life, count on," Msgr. Deeley said, in a statement.

The theme "The Good Samaritan Is You" invites Catholics across the archdiocese to respond to the pastoral, educational, and charitable ministry needs of the Church in the Boston, the cardinal explained in his homily at Holy Family Parish.