Culture
We understand that our students want to do well in life, but we help them to understand that is most important that they do good works.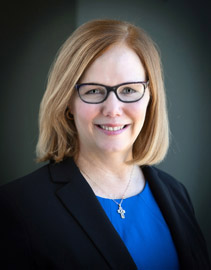 There is a lot going on in the world today, and much of it seems negative and very unsettling. Fortunately, many of the challenges we face today as a Church and as a society can be addressed through Catholic education, an education that focuses on each individual student and an education that promises to prepare our students for both college and heaven.

Catholic education strengthens our communities. According to research by the Pew Institute, Catholic school graduates are more likely to vote and engage in volunteer activities. Students learn that they are called to serve, and they begin their service at a very young age. I recently visited at Our Lady of the Assumption in Lynnfield, and their youngest students could discuss how they are supposed to help each other, which is a building block of service. Learning and living these lessons at the age of 3, these students will go further with the faith that they are being taught.

Students in our Catholic schools are taught to be ethical and productive members of society. They learn right from wrong and they learn the importance of respecting all life, the dignity of work and the impact their decisions have on the rest of society. Boston College High School has recently started a program where students are participating in funerals for people who have died, people whose passing went unnoticed by many. The men of BC High are participating in Masses for these people and are with them on their journey to their final resting place. They are going the extra mile, with their faith as their guide.

Academics are important in our Catholic schools and all our schools work each day to offer a rigorous curriculum. Teachers across the Archdiocese are writing new lessons that will challenge our students to think creatively and to work collaboratively. Teachers are asking students to apply the doctrine of the Church to their thinking and the students are thinking critically about how to respond as Catholics in a variety of situations. Students at St. Bridget in Framingham are using these methods to come up with ways to address waste sites that exist in their part of the world. They want to address the future use of these sites in a way that will support life, while providing for all kinds of people. They are going further in growing their faith, while developing skills that will serve them well throughout their lives.

Our schools serve the poor. Our schools, our parishes, the Campaign for Catholic Schools and the Catholic Schools Foundation raise over $30 million annually to provide financial assistance for our students. It is this model of generosity that our students are exposed to each day and those who help fund this financial assistance are in our prayers each day.

Catholic education teaches students that life is far more than what you do for a living. Our students are created by a God who loves them, and we teach them that all work has dignity. We teach them that their success will never be measured by the size of their paycheck. We understand that our students want to do well in life, but we help them to understand that is most important that they do good works. We teach our students that they will go further in life because of their relationship with Jesus and their relationships with others.

It is those relationships and the communities that are built in our Catholic schools that make our schools different. It is our dedication to test each student academically and to help them to prepare for his/her future that makes our schools a strong option for so many children. It is our commitment to offering activities and curriculum that develops the whole child: mind, body and spirit, that sets us apart from other educational options. It is our obligation to provide art programs and sport offerings to build not just build personal skills, but to also provide opportunities for our students to learn to work together.

Catholic schools are special places of hope, places where children develop into saints and scholars. We want our children to be industrious, principled members of society and we teach them how to be engaged in the world around them. Most importantly, we want our children to know, love and serve God and we teach them that, too. Catholic schools provide the most well-rounded education of any type of school and this mission of the Church is very important to our Church's future and our country's future.

Our teachers, principals, pastors and other educational leaders have accepted the challenge to provide quality Catholic education. We will continue to work diligently to enrich the lives of our students and their families and we ask for your prayers to support us in our vocation. We know that our students will go further because of their faith, because of their Catholic education.

- Kathy Mears is Superintendent of Catholic Schools in the Archdiocese of Boston.
Recent articles in the Culture & Events section