Culture
Our teachers are exemplary. Each day, they show students how to live their lives.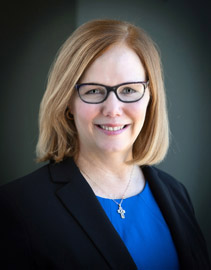 Dedication. Passion. Intelligent. Caring. These are some of the words that were used in over 160 nominations for the first annual Archdiocese of Boston Excellence in Education Award. The new award, created with the support of the Catholic Schools Foundation, honors school teachers' commitment to developing saints and scholars in the Catholic schools in the Archdiocese of Boston. The teachers selected demonstrate strong leadership qualities, model a faith-filled life, promote academic excellence, and are devoted to their students and school. They inspire students from all backgrounds and abilities to learn, and they actively collaborate with peers, students and families to create a welcoming environment and culture of success in their schools.

Five elementary-school teachers and five secondary-school teachers were selected as the first-ever recipients of the award, each receiving $1,500. The teachers will be honored at a luncheon in May with Cardinal Seán O'Malley. In addition to this new initiative, the Yawkey Foundation has provided public recognition and financial awards to teachers at the St. John Paul II Catholic Academy since 2009, honoring them for their work with our students.

This year's winners are: Andrea Alberti -- St. Mary Junior-Senior High School in Lynn; Michael Clancy -- Boston College High School -- Boston; Sheila Deitsch -- St. Paul School -- Hingham; Beverly Ekstrom -- Archbishop Williams High School -- Braintree; Sister Charlene Favreau, CSJ -- Immaculate Conception School -- Lowell; Mark Flint -- St. Mary of the Annunciation School -- Melrose; Anne Krane -- St. Columbkille -- Brighton; Angela Lee -- Malden Catholic High School -- Malden; Jane Richard -- Presentation of Mary Academy -- Methuen; Sharon Rozzi -- East Boston Central Catholic School.

Choosing these exemplary teachers was not an easy task and involved teachers and school leaders from across the archdiocese. Each application was read by multiple reviewers and a rubric was utilized to help make sure that each application was evaluated in the same manner. The twenty applicants who received the highest scores were then given an interview and the ten recipients, five from elementary schools and five from secondary schools were selected following the interviews.

The biggest reason it was so difficult to select these finalists is because of the great work being done by so many wonderful teachers across the archdiocese. As one finalist declared when he was told that he was a recipient, "I'm not the best teacher in my department!"

Our teachers are exemplary. Each day, they show students how to live their lives. Our teachers buy their students supplies and clothing and they do so on very limited salaries. They work long hours, tutoring students before and after school, developing lesson plans that are infused with the teaching of the faith and then they meet with families, forming true partnerships with our parents, knowing the important role that parents play in the education of their children.

Our teachers are professional. They keep learning new instructional techniques, new technology and the neuroscience of teaching, how the brain learns. They read, they discuss and they reach out across the archdiocese to ask questions of colleagues both near and far.

Earlier this year, the Catholic Schools Office began virtual professional learning communities in a pilot project. The communities focused on the teaching of math and leadership. Groups of teachers who wanted to improve their math instruction met and discussed new strategies and are working on curriculum maps that reflect their new knowledge. In the leadership group, aspiring leaders have used ZOOM and other technology to meet and discuss what it means to be a leader in a Catholic school and what it means to be a teacher leader. They discussed change and how the Church in 2018 needs strong leaders who seek to do the right thing, who seek truth.

The Catholic Schools Office is learning from these initiatives and hope to further develop them over the next school year. We know that we have others who want to participate, so we are working diligently to build the infrastructure that will support this work.

St. Theodora once said that we should, "love the children first, then teach them." That happens every day in classrooms across the Archdiocese of Boston. We are grateful to these women and men who are devoted to developing saints and scholars for our Church. We realize that they and their work are a gift to the Church and we appreciate the sacrifices that they make for our students and their families.

- Kathy Mears is Superintendent of Catholic Schools in the Archdiocese of Boston.
Recent articles in the Culture & Events section