Local
Pastors of Phase 1 collaborative parishes begin training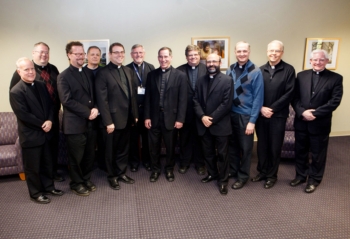 The 12 pastors of the parishes taking part in the first phase of the archdiocese's pastoral plan are pictured during their training at the archdiocese's Pastoral Center May 10. Pilot photo/ Gregory L. Tracy
Local
From Cardinal Seán's blog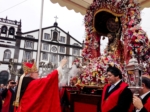 This year I was invited by Bishop Antonio de Sousa Braga to preside at the Santo Cristo Feast on the island of San Miguel in the Azores. I was accompanied by Father Walter Carriero of St. Anthony's in Cambridge, my priest secretary Father Jonathan Gaspar, and Father Kevin O'Leary the rector of the Cathedral.

Nation
Researchers' embryonic stem-cell advance decried as morally troubling
By Patricia Zapor
WASHINGTON (CNS) -- As Oregon scientists announced May 15 that they had successfully converted human skin cells into embryonic stem cells, the chairman of the U.S. bishops' Committee on Pro-Life Activities warned that the technique is morally troubling on many levels.

Nation
Gosnell's conviction shows 'ugliness of abortion,' archbishop says
By Catholic News Service
PHILADELPHIA (CNS) -- Dr. Kermit Gosnell may have been convicted May 13 of murder at his Philadelphia abortion clinic, but "nothing can bring back the innocent children he killed, or make up for the vulnerable women he exploited," said Archbishop Charles J. Chaput.

Nation
Annual audit shows number of abuse allegations in church dropped in 2012
By Catholic News Service
WASHINGTON (CNS) -- The annual audit of diocesan compliance with the U.S. Catholic Church's "Charter for the Protection of Children and Young People" found a drop in the number of allegations, number of victims and number of offenders reported in 2012.

Nation
Dinner raises scholarships, celebrates legacy of Catholic University
By Mark Zimmermann
WASHINGTON (CNS) -- In March, they came together to help elect a new pope. In May, several American cardinals came together to help support scholarships for students attending The Catholic University of America.

World
Tens of thousands march for life in Rome
By Francis X. Rocca
VATICAN CITY (CNS) -- U.S. Cardinal Raymond L. Burke and U.S. pro-life leaders joined tens of thousands of demonstrators in Italy's third annual March for Life May 12, which ended with a personal greeting from Pope Francis.

World
Vatican commissions art for display at Venice international exhibition
By Cindy Wooden
VATICAN CITY (CNS) -- After years of discussion and at least one failed attempt, the Vatican will open a pavilion at the 2013 Venice Bienniale, a major international contemporary art exhibition.

World
Sainthood cause of 16th-century Jesuit moves to Vatican
By Cindy Wooden
VATICAN CITY (CNS) -- Although it has taken more than 400 years, the sainthood cause of Jesuit Father Matteo Ricci, the 16th-century missionary to China, appears to be back on track.

World
Vatican tells cardinal to leave Scotland for period of prayer, penance
By Cindy Wooden
VATICAN CITY (CNS) -- Scottish Cardinal Keith O'Brien, who resigned as archbishop after admitting to sexual misconduct, will leave Scotland "for several months for the purpose of spiritual renewal, prayer and penance," the Vatican said.

Local
Cardinal skips BC commencement over honor to Irish prime minister
By Christopher S. Pineo
BOSTON -- Cardinal Seán P. O'Malley will not attend commencement at Boston College this year because the college plans to honor the prime minister of Ireland who has supported a bill to introduce legalized abortion in that country.

Local
Cardinal addresses Regis College grads
By Christopher S. Pineo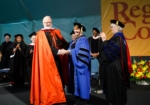 WESTON -- Cardinal Seán P. O'Malley gave the commencement address and received an honorary doctorate of laws degree from Regis College at commencement ceremonies, May 11.

Opinion
Living the Social Gospel
By Cardinal Seán P. O'Malley, OFM Cap.
Below is the May 11 Regis College Commencement Address by Cardinal Seán P. O'Malley It is a privilege to be with you today as we celebrate the achievements of this year's graduating class. Regis College has more than eighty years of proud history educating women and now men to be leaders in society, in their professions and in the Church. We are all indebted to the vision and dedication of the Sisters of St. Joseph, who so wisely and so well established the foundation we stand on today. We are blessed by the very capable manner with which Dr. Antoinette Hays refines the Regis mission for today's world while holding fast to the timeless principles on which the College was founded. I am honored to be added to the ranks of those who have received honorary degrees from Regis College.
Opinion
How others view the Gosnell trial
Michael Pakaluk
First I will say how (I hope) you and I look at the Kermit Gosnell trial, and then I will describe how others view it. These others include, on a reasonable reckoning, most of the main-stream media, the Obama administration, most law professors now, perhaps several members of the Supreme Court, and also about 95 percent of college professors.
Opinion
A season of gratitude
Debbie Rambo
During the spring fundraising event season, Catholic Charities has the incredible opportunity to gather with supporters to celebrate the work we do and the clients we serve across Eastern Massachusetts -- while also thanking those who help us achieve our mission of building a just and compassionate society rooted in the dignity of all people.
Opinion
Tribalism is in our blood
Kevin and Marilyn Ryan
Many Catholics grew up learning about Kateri Tekakwitha. If you were from New York she was in your curriculum when you learned about the saints. You prayed for her in part because she was from your state.
Opinion
Transitions
Jaymie Stuart Wolfe

Have you ever noticed that we're almost always "in transition"? I say that because I've realized just how frequently I seem to be waiting -- or trying -- to get to the other side of something. All the while I keep telling myself that in a few weeks/months/years, things will settle down/clear up/be resolved/improve. Despite a huge amount of evidence to the contrary, I've managed to hold on to the idea that life moves from one stable state of things to another. Nonsense!
Opinion
Monstrosity and truth
J. David and Angela Franks
Monstrous acts hold up a mirror to our culture. Newtown, Marathon Day, the Cleveland dungeon, Gosnell's house of horror. The horror.
Opinion
Injury prone?
Clark Booth
One -- again -- approaches this subject warily. When sports columnists wander from their cage in the toy department to grapple with issues like health, medicine, and injury they are instantly out of their depth.
This week's front page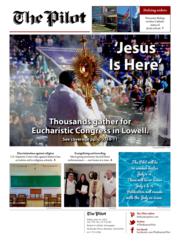 See enlarged version