Catholic school success story: From English language learner to honors graduate
---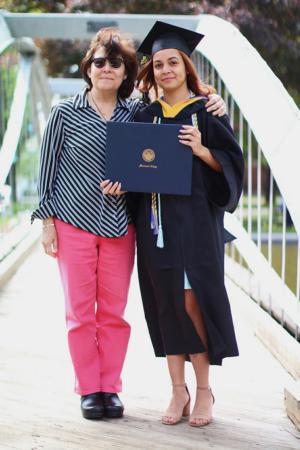 Yannelly Mercado is pictured with Sister Barbara Gutierrez at her graduation from Merrimack College in May. Pilot photo/courtesy Yannelly Mercado
BRAINTREE -- Having grown up in the Dominican Republic, Yannelly Mercado didn't move to the United States until she was in 6th grade, and didn't fully learn the English language until she was in 9th grade.

Yet, that didn't stop her from becoming an honor roll student during her time at Notre Dame Cristo Rey High School in Lawrence, graduating this year from Merrimack College Summa Cum Laude, and landing a job in her field of study -- education.

"I just kept on pushing forward," said Mercado told The Pilot June 8.

Until the 6th grade, Mercado lived in the Dominican Republic with her mother, brother, and sister, while her father was already living and working in the U.S.

"He would occasionally visit my family in (Dominican Republic) and would send money over there to support us, but during my childhood he was living here," she said.

She attended a Catholic school in the Dominican Republic, and later continued her Catholic education in the U.S. at Notre Dame Cristo Rey High School, a co-education school sponsored by the Sisters of Notre Dame de Namur.

It was there that she learned more of the ins and outs of the English language, taking a class aimed at non-native speakers that saw her "reviewing basic English skills."

That helped "prepare me for the materials in the following years," said Mercado.