From Cardinal Seán's blog
---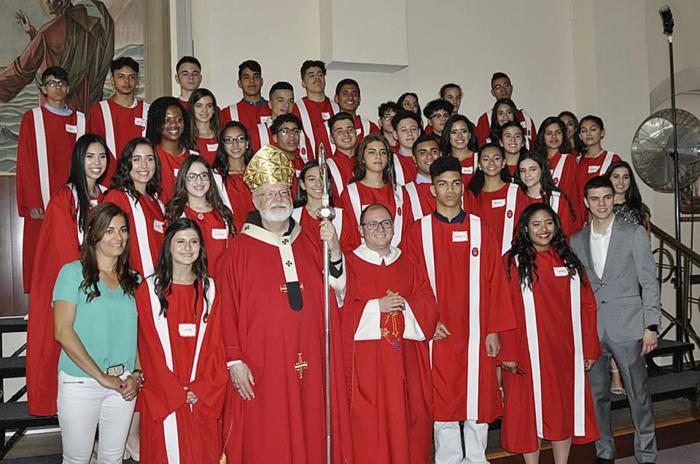 'This past weekend was, of course, Pentecost (6/4) and as has been my tradition, I celebrated Confirmations for the young people of the Brazilian community in the archdiocese.' Pilot photo/CardinalSeansBlog.org
This past weekend was, of course, Pentecost (6/3) and as has been my tradition, I celebrated confirmations for the young people of the Brazilian community in the archdiocese. Ordinarily, we would hold all the confirmations at the same time at the cathedral. However, this year, because the upper church of the cathedral is closed, we are holding them in stages at different locations. This first group was held at the Madonna Queen Shrine in East Boston and next weekend we'll be celebrating confirmations at St. Tarcisius in Framingham.

We had about 150 young people receive their confirmation there and we were so happy to be joined by the priests and sisters active in the Brazilian Apostolate. I presented the young people with a prayer card with Pope Francis' prayer for young people in preparation for the upcoming Synod on Youth, Faith and Vocational Discernment.

Library Dinner

That evening, I attended the annual Explorer Award Dinner to benefit the Norman B. Leventhal Map Center of the Boston Public Library.

During the evening, they presented their Explorer Award to Peter Lynch and named a teacher fellowship in honor of Carolyn Lynch.... Peter and Carolyn Lynch are two of those who have made such outstanding contributions to education in the Boston area, and in a very special way to our Catholic schools, and so they were very fitting candidates to be honored.