Religious brother jubilarians
---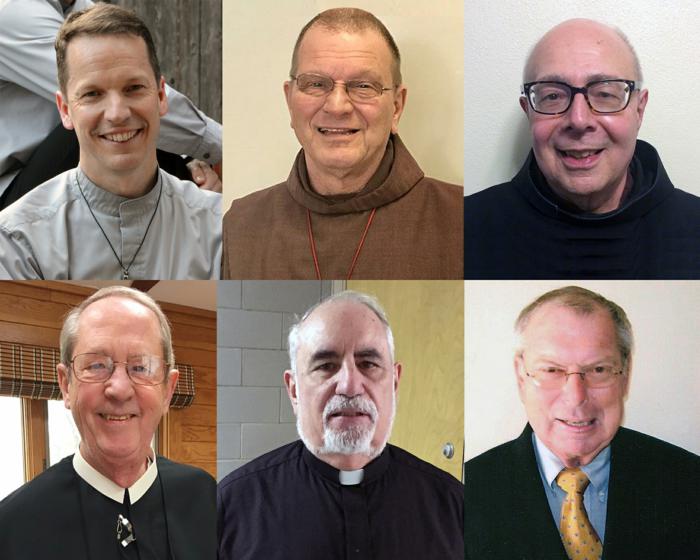 (Top row) Brother Samuel T. Gunn, BH -- 25 years; Brother Thomas Banacki, SA -- 25 years; and Brother Anthony LoGalbo, OFM -- 50 years. (Bottom row) Brother David E. Wiggin, CFX -- 50 years; Brother Paul Alves, SSCC -- 50 years; and Brother Bill Lambert, FMS -- 60 years. Courtesy photos
Brother Samuel T. Gunn, BH -- 25 years

In 1990 Brother Sam Gunn left behind a promising career as a graphic designer and illustrator in New York City to pursue a vocation to religious life with the Brotherhood of Hope. This was not only a departure from a career, but with it he crossed the threshold in a conversion from the Baptist faith to Roman Catholicism. His father, Baptist minister Rev. Allen R. Gunn, was alarmed at the time, but grew to accept and support his son's calling.

From the completion of his training in the Brotherhood in catechesis and evangelization, Brother Sam has served in various aspects of campus ministry for over two decades. In 1994, Brother Sam joined a group of brothers who went to Florida State University to help run the Catholic Student Union. Under the brothers' influence, and in cooperation with priests from the Diocese of Pensacola/Tallahassee, CSU grew into the thriving, dynamic student community that continues to this day.

In 2004, Brother Sam returned to school and in 2007 he graduated from St. John's Seminary in Brighton with a Masters of Arts in Ministry. Upon receiving his degree, Brother Sam went to work on the pastoral staff of Boston University's Catholic Center.