Vocation Day gathers Catholic homeschooling families
---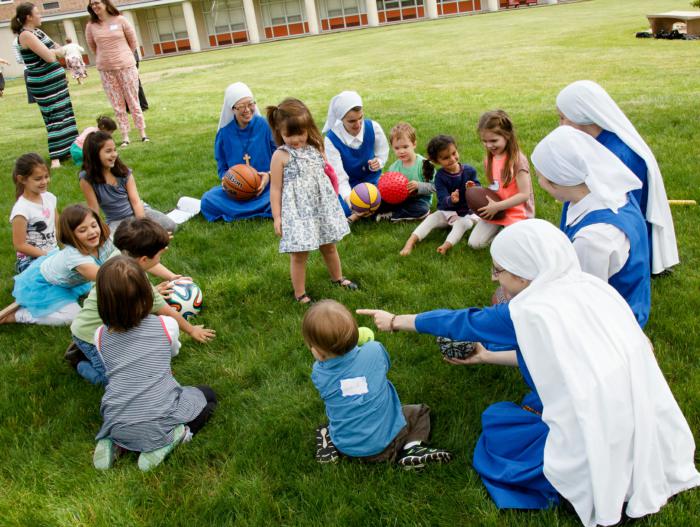 Sisters of the Daughters of Mary of Nazareth play a game with children at the 11th annual Homeschooler Vocation Day held at Pope St. John XXIII Seminary in Weston June 1. Pilot photo/Mark Labbe
WESTON -- Children of all ages raced around the lawn of Pope St. John XXIII Seminary, taking advantage of the seminary's basketball court and tiny mini-golf area while seeing old friends and making new ones. Parents looked on, watching their kids enjoy the Archdiocese of Boston's 11th annual Homeschooler Vocation Day, June 1.

Held through efforts by the archdiocese's Home School Ministry and the Office for Vocations, Homeschooler Vocation Day serves as a way for Catholic homeschooling families from across the archdiocese and beyond to come together and celebrate their shared faith and method of education.

Daughters of St. Paul and Daughters of Mary of Nazareth, as well as seminarians and several priests were also present at the event, giving families an opportunity to interact with religious and clergy in a relaxed setting.

Typically, the day has been held at St. John's Seminary in Brighton, although in the past it has also taken place at the Daughters of Mary of Nazareth's convent. This is the first year it has been held at Pope St. John XXIII Seminary in Weston.

The day began with a Mass celebrated by assistant vocation director Father Carlos D. Suarez, with Father Sinisa Ubiparipovic, parochial vicar at St. Paul in Hingham, as the homilist, before families were treated to a lunch.