From Cardinal Seán's blog
---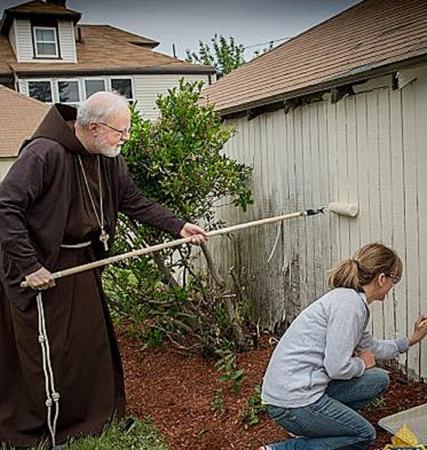 'Wednesday (5/24) I paid a visit to our volunteers from the Pastoral Center who were taking part in our annual Parish Service Week...' Pilot photo/CardinalSeansBlog.org
Sunday (5/21), I went to St. Joseph-St. Lazarus Parish in East Boston to celebrate a Mass to mark their 125th anniversary.

The parish was originally very much comprised of Italian immigrants, but today there is a very large Hispanic and Brazilian community in the parish. For a number of years, the parish has been staffed by the Don Orione Fathers, and we were pleased to be joined by the General Superior of the Don Orione Fathers, Father Oreste Ferrari; their Secretary General, Father Janus Sowizdrzal; the pastor of St. Joseph-St. Lazarus, Father Mirek Kowalczyk, as well as a number of other priests. We also were pleased to be joined by Mr. and Mrs. Joseph Ruggiero, who have given significant time and effort in support of the parish and East Boston Central Catholic School.

It was a beautiful Mass and was followed by a reception in the parish hall. Unfortunately, I was unable to stay because I was scheduled to celebrate a baptism and confirmation at the Cathedral that afternoon.

B.C. Commencement

Monday morning (5/22), I went to Boston College for their annual commencement ceremony. It was a beautiful graduation despite the rain. Among the honorary degree recipients this year was actor Chris O'Donnell, who attended Boston College, as well as Amy Guen, a member of the Chinese Catholic Community at St. James Parish who graduated from B.C. more than 60 years ago.