Boston bids farewell to Bishop Deeley
---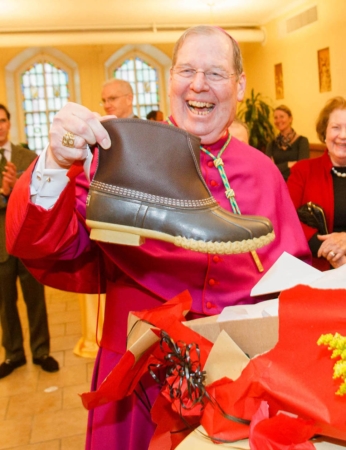 Bishop Robert P. Deeley receives a pair of L.L. Bean boots from his fellow members of the Order of Malta at the reception following the Feb. 9 Mass to bid him farewell as he prepared to become the next Bishop of Portland, Maine. Pilot photo/Gregory L. Tracy
BOSTON -- After years of service here as a priest, canon lawyer, and vicar general, the Archdiocese of Boston said goodbye to Bishop Robert P. Deeley at a Feb. 9 Mass of Thanksgiving at the Cathedral of the Holy Cross, as he prepared to be installed as the next Bishop of Portland, Maine Feb.14.
The Mass at the cathedral was concelebrated by more than two dozen priests and auxiliary bishops and attended by many of the bishop's friends and family. He had previously gathered for a Mass of Thanksgiving with his co-workers at the archdiocese's Pastoral Center Jan. 29.
Delivering opening remarks at the Mass, Cardinal Seán P. O'Malley thanked the bishop for his years of service in Boston and abroad, on behalf of the archdiocese.
"I did want to have this opportunity to, first of all, acknowledge the Deeley family, who have given the Church two fine priests, and for all of their faith and support for the archdiocese. We are so grateful to Bishop Deeley for his generosity and his service here in the archdiocese in so many different ways," Cardinal O'Malley said.
The cardinal thanked Bishop Deeley for his service as a pastor in the tribunal, as an auxiliary bishop, as vicar general, and for his work in Rome, when he served as an expert in canon law with the Congregation for the Doctrine of the Faith between 2004 and 2011.
"He very generously accepted a very difficult task in Rome, where he ended up spending a much longer time than he had anticipated. He did everything that the Church asked him to do. He has responded with great generosity, and we all know of his talent, and work ethic, and his love for the Church," the cardinal said.
The cardinal then presented Bishop Deeley with a set of vestments to be used at his Mass of installation.
In his homily, Bishop Deeley said he appreciated the trust Pope Francis has placed in him by asking that he lead the Diocese of Portland.
He also explained that he had planned this local Mass of Thanksgiving when he learned that space for visitors at his Feb. 14 installation Mass would be limited because so many of his new flock wanted to be present to welcome their new bishop.
"They said that the priests and the people of Maine really wanted to participate in the Mass themselves; they have been 20 months without a bishop and they are interested to get to know the one the Holy Father has sent to them," Bishop Deeley said.
He said that as he drove back from the January press conference to announce the appointment, "I got a call from one of my Irish cousins informing me that they were organizing a group to come over, so I figured I really had to do something," Bishop Deeley.
"I am very grateful that Cardinal Seán suggested graciously that we have this Mass today, to which I was able to invite the many people who have been part of my life, and part of my ministry in Boston, over these last 40 years of my priesthood, to come to join me and give thanks to God for all the ways in which he has blessed my life through the great privilege of being a priest in Boston," he said.
After he thanked all those present -- including members of the Order of Malta, whom he serves as a deputy chaplain -- he concluded with a simple request.
Page 1 of 2