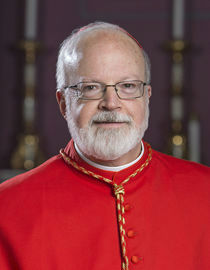 Cardinal's letter on immigration
---
September 8, 2013
My Dear Friends in Christ:
This weekend Catholic Bishops throughout the country are addressing the topic of immigration reform in the United States. This is a major question in our public life as the Congress returns to work. The Senate has passed an immigration bill and the U.S. House of Representatives is about to debate the question.
Immigration is a theme which runs through the history of Catholicism in America. The growth of the Church in the United States during the last two centuries was driven by immigration from Ireland, Italy, Germany and Eastern Europe, as the newly arrived turned to our parishes for protection, assistance and advice. Immigrants today come in good part from Asia and Latin America, but their needs are in many ways similar to those of our ancestors.
The Church's interest in the immigration question continues to be a combination of pastoral care and public advocacy. We seek to provide a welcome in our parishes, schools and social service agencies, and also to have a place in the debate about a fair and just public policy.
The Catholic social tradition and Catholic moral teaching are rooted in the sacredness of human life, the dignity of the human person, the protection of human rights and standards of social justice by which laws and policies are shaped. Each of these ideas stands behind the Church's position on immigration reform.
We recognize that immigration policy is a complex question and that there are competing objectives at stake. The Church's position rests on the conviction that moral ideas about dignity and justice call for changes in the current policies. Archbishop Jose H. Gomez, Chair of the Unites States Conference of Catholic Bishops Committee on Migration has stated the issue with clarity: "Each day in our parishes, social service programs, hospitals and schools, we witness the human consequences of a broken immigration system.....without positive change to our immigration laws, we cannot help our brothers and sisters. Simply put, the status quo is morally unacceptable. This suffering must end."
Page 1 of 2