BC hosts summit to look at way to promote vocations
---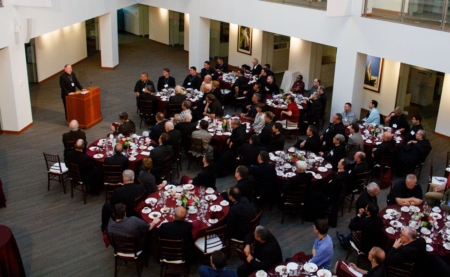 Boston College president Father William Leahy delivers his "Summit on Vocations" dinner keynote address June 20. Pilot photo/Christopher S. Pineo
BRIGHTON -- Catholic churchmen from 15 dioceses and 10 priestly orders converged on Boston College, June 20-21, to discuss, explore and address a major concern in the Church -- vocations.
At the "Summit on Vocations: Exploring Ways to Promote Vocations to the Priesthood," archbishops, bishops, priests, vocation directors, Catholic educators, Catholic college and university presidents discussed the results of a recent research study commissioned by Boston College and the Jesuit Conference to assess the impact of higher education on the vocational discernment of men entering the seminary and religious life in the United States.
Father William P. Leahy, S.J., president of Boston College, gave a keynote address at the college's Cadigan Alumni Center on the first day of the summit.
"I remain convinced; there are vocations to be had in our Church -- especially in the United States," he said.
The research study, "The Influence of College Experiences on Vocational Discernment to Priesthood and Religious Life," was conducted by the Center for Applied Research in the Apostolate (CARA) in Washington, and confirmed much of what Father Leahy said in his remarks.
He said the key to tapping into the potential vocations is an example of living "in hope and with faith" demonstrated by priests and religious engaged interpersonally with students.
"There is nothing as powerful as happy, fulfilled priests and religious. That is contagious. That attracts. So, one of the things I think is incumbent upon us is that we guard against pessimism, and that we take on those who may say, 'I wouldn't enter today' or 'I wouldn't be a priest or a religious.' We need to challenge that," Father Leahy said.
He pointed priests and religious toward the frontline defending the faith, by keeping a good attitude.
"If we are not happy, fulfilled, ready to recruit others, they are not going to come," he said.
The survey findings support the idea that Catholic colleges and universities offer a more encouraging environment for vocational discernment and more opportunities to dialogue about vocations.
Compared to those who attended non-Catholic colleges, those who attended Catholic colleges are: over three times more likely to report being encouraged in their vocational discernment by college staff; almost three times more likely to be encouraged by a college professor; and substantially more likely to be encouraged by parents, siblings, friends, and campus ministers.
Father Leahy said the infrastructure of Catholic education still exists as a network to spur vocations.
"We have in the United States -- at least in the higher-ed world -- huge opportunities on our college campuses, and so do we also have possibilities in our high schools. We have a great network. It is not as large as it was, but it is still a great network," Father Leahy said.
He said recruitment for vocations should take a page out of America's favorite pastime, and how major league baseball teams rebuild. He compared owners in that model to bishops, planning a way forward to bring in the right people to nurture progress.
"We have owners. So, you need an owner that will give time and commitment. ...We need a general manager, could be the provincial, could be some superior. We need a field manager, who could be the vocation director -- promoters. And then, we need scouts. We need people who will identify individuals who have talent, inclination, desire -- who can be pointed in the direction of priesthood and religious life," Father Leahy said.
Researchers polled respondents on college coursework, Mass attendance, involvement with campus ministry, experiences with religious retreats, peer friendships, and other topics, to identify the distinct factors at Catholic colleges and universities that influence vocational discernment to diocesan priesthood or religious life, and presented information which suggested that vocations could be stimulated by work similar to that described in Father Leahy's baseball analogy.
"If we would do that as sincerely and as ardently as we do many other things, I believe we would have more and more vocations. The vocations are there. God has not left us orphans. We are not alone," he said.
Page 1 of 2