Five ordained to the priesthood
---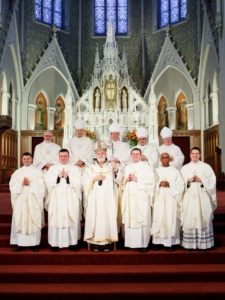 Newly ordained Fathers Gerald A. Souza, John A. Cassani, Christopher W. Wallace, Jacques A. McGuffie and Thomas K. MacDonald pose with Cardinal Seán P. O'Malley, auxiliary bishops and episcopal vicars following their May 25 ordination Mass at the Cathedral of the Holy Cross. Pilot photo/Gregory L. Tracy
SOUTH END -- Family, friends, seminarians, clergy and religious from around the Archdiocese of Boston joined Cardinal Seán P. O'Malley as he ordained five men to the priesthood on May 25 at the Cathedral of the Holy Cross.
"Your vocation is to participate in the priesthood of Jesus Christ, the good shepherd," Cardinal O'Malley said in his homily.
In his homily, the cardinal thanked a nearly full house at the cathedral for their support of the men, before he celebrated the Rite of Ordination to the Order of Presbyter for Fathers John A. Cassani, 33; Thomas K. Macdonald, 28; Jacques A. McGuffie, 67; Gerald A. Souza, 27; and Christopher W. Wallace, 30.
"In all of my years as a priest and religious reading of papal homilies, I must confess that no phrase used by a pope in the last hundred years has been quoted as much as Pope Francis' words to his priests in the Chrism Mass homily this year, where he tells us 'the shepherd should have the smell of the sheep,'" the cardinal said.
"That is the kind of shepherd that Christ is calling you to be. Jesus is calling you to be close to your flock, to know them and to be known by them. Remember, there will be a sniff test," he joked.
The cardinal conducted the ordination rite from the bishop's chair, called the cathedra, which symbolizes his apostolic teaching authority.
After the homily, each candidate approached the cathedra and promised obedience to the cardinal and his successors and lay prostrate during the singing of the Litany of the Saints.
The cardinal laid his hands upon each of the men, ordaining them priests, followed by all of the bishops and priests in attendance.
The newly ordained then received the prayer of consecration, investiture with stole and chasuble and anointing of the hands.
The cardinal handed each of the five new priests a paten and chalice, before they joined him at the altar to concelebrate the Mass.
Page 1 of 2