Bells ring for last eight minutes of papacy
---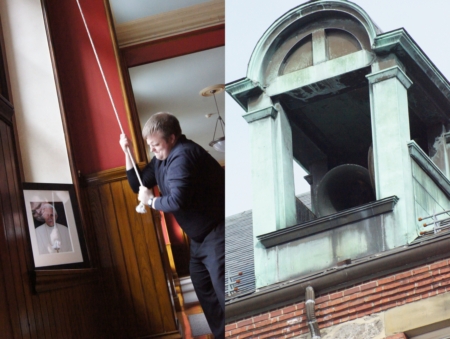 Seminarian James Boland (left) rings the bell over St. John's Seminary in Brighton (right) to announce the final eight minutes of the papacy of Pope Emeritus Benedict XVI on Feb. 28. (Pilot photo/Christopher S. Pineo)
BRIGHTON - Ask not for whom the bells tolled in the Archdiocese of Boston during the final eight minutes of the pontificate of Pope Emeritus Benedict XVI, Feb. 28, because they did not toll at all.
According to the seminarians who hauled on the rope in the great hall at St. John's Seminary in Brighton, the bell rang with a pace quickened and bold, closer to what bell-ringers call a peal, as opposed to a toll, which rings out at a pace steady and solemn.
"If you have ever been to a funeral, you know that it would be a slow single ring. Just that slow single ring would be more of what you hear, a toll versus a peal which would be more of a double ring, like two hits as opposed to a single slow hit," said James Boland, seminarian third theology for the diocese of Worcester.
Bell-ringers at the seminary said they did not ring the bells as fast as they could, in a full peal.
They did not ring the bells celebrating the end of the papacy, but announcing it, nor were they mourning the passing of a pope, so tolling the bells would not do either.
"A toll would be something you would hear for a funeral. Obviously, in this case the Holy Father is still living although he has resigned the office, so we don't do a funeral toll in that situation. We do what would be more called a peal, which is what you heard with the ringer hitting on both sides of the bell," Boland said.
Ringing the bells for the final minutes of the papacy took eight minutes - one minute shy of three rounds of boxing, or two minutes longer than a full Olympic freestyle wrestling match - of continuous exertion, so two seminarians alternated pulling the rope.
Chris Peschel, seminarian third theology for the diocese of Fall River, backed up Boland ringing the heavy bell.
"Eight minutes would be a long time for one person to ring a bell, and our bell is a descent size, so it would be a little heavy," Peschel said.
"It is a good arm workout at the very least," he said.
Msgr. James P. Moroney explained the theological significance of ringing the bells from 1:52 p.m. until 2 p.m., the final eight minutes of the end of an eight year papacy.
He said Cardinal Seán P. O'Malley requested the bells to ring at that time.
Page 1 of 2