Dorchester center maintains tradition of supporting families
---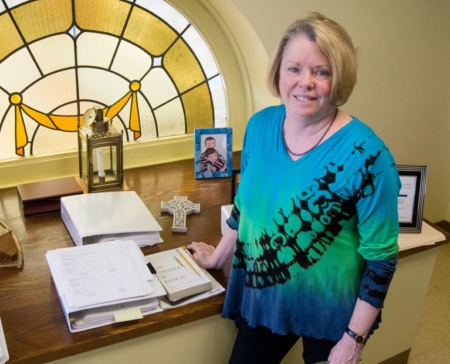 Judy Beckler, president of St. Mary's Center for Women and Children in Dorchester. Pilot photo/Christopher S. Pineo
DORCHESTER -- In a tough economy where just working a job doesn't always cut it, St. Mary's Center for Women and Children works to restore dignity by helping women, children and families achieve economic self-sufficiency and stability.

"The goal and mission is to really look at families in a holistic way, and understand in order for them to be able to be self-sustaining and free of trauma, prejudice and bias that we need to attend to three primary needs, which is their emotional and spiritual, their educational, and their economic stability. We address all three of those areas," St. Mary's president Judy Beckler said Nov. 1.

St. Mary's facility provides work programs, educational opportunities, housing, and after school programs for families, women, children and teens impacted by poverty and trauma.

Beckler gave The Pilot a tour of the 120,000-square-foot facility re-developed from the former St. Margaret's Hospital in 1993.

In her over 16 years as president, Beckler said the facility has sheltered 2,000 homeless families, cared for 300 parenting teens and their infants, comforted more than 1,000 child victims of abuse and neglect, and equipped 700 women with education and work skills.