Boston area faith leaders meet to oppose assisted suicide
---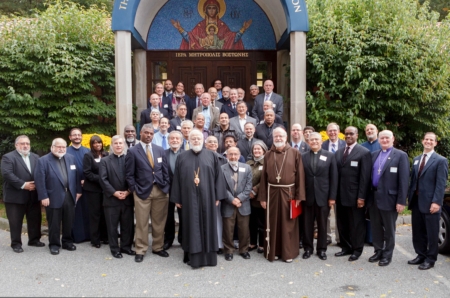 A group of more than 60 religious leaders, representing more than 20 Christian denominations as well as other religions, gathered at the Greek Orthodox Metropolis of Boston Oct. 9 to discuss ways faith groups can work together to oppose the November ballot question to legalize physician assisted suicide in Massachusetts. Pilot photo/ Gregory L. Tracy
BROOKLINE -- Greek Orthodox Metropolitan Methodios greeted the leaders of more than 20 Christian denominations and other religions at the Greek Orthodox Metropolis of Boston Cathedral Center on Oct. 9 to discuss how they can work together in opposing a November ballot question to legalize physician assisted suicide.

Remarks during the meeting of the more than 60 religious leaders were closed to the media, but participants spoke with The Pilot afterward.

Metropolitan Methodios said he took pride in inviting the different religious leaders to learn about and discuss the ballot initiative.

"It was a great honor for me today to host this meeting of the ecumenical leaders of Greater Boston to discuss a very important subject for all of us, and that is physician assisted suicide," the metropolitan said.

During the meeting, Peter Cataldo, chief healthcare ethicist for the Archdiocese of Boston, built a case around four points for the faith community to stand against legalized suicide.

He said concerns for human dignity, human freedom, stewardship of life, and the response to human suffering reside at the heart of faith-based motivation against physician assisted suicide.

He explained each point for The Pilot after the event.

"The proponents of physician assisted suicide reduce the concept of human dignity to control," he said.