From Cardinal Seán's blog
---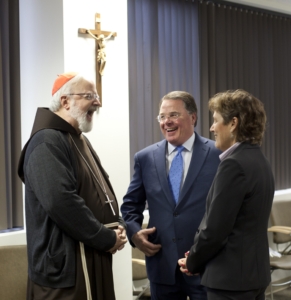 'Thursday (3/1), we had a farewell Mass and reception to thank Jim McDonough for his service as chancellor of the archdiocese.' Pilot photo/CardinalSeansBlog.org
That evening (2/26), I had dinner with John Garvey, who was in Boston to give a talk to students at Harvard University's Catholic Center. He was accompanied by his vice president for institutional advancement, Ken DeDominicis. John Garvey is the president of the pontifical Catholic University of America and many will remember that he was formerly the Dean of Boston College Law School. He is an outstanding Catholic layman. During the dinner we had a chance to discuss with him the HHS contraceptive mandate and other situations in our country.
Visit to Bay State Correctional
On Monday (2/27), I went to visit Bay State Correctional Center, a medium security facility in Norfolk. With us was Deacon Jim Greer, who heads our prison and hospital ministries; Father Tomas, a young Polish Jesuit who was helping out there; Sister Ruth, a lay Dominican sister who is the chaplain there; and Deacon Dave from St. Jude's parish who also helps out at the prison. We had an opportunity to have lunch with some of the staff and volunteers. Afterwards, we celebrated Mass with the inmates.
Meeting with Chai Ling
On Tuesday (2/28), I had a visit from Chai Ling, a former student leader of the Tiananmen Square movement who is now a local business woman. She came to speak to me about her non-profit group, All Girls Allowed, which aims to educate people on the effects of China's One Child Policy on women -- both born and unborn. Of course, most of us are aware of the One Child Policy, but the statistics she presented were startling... She also presented me with a copy of her book "A Heart for Freedom," in which she tells her story of leading the movement in Tiananmen Square, her eventual escape to the United States and building a life here as well as her faith and the attempt to find meaning to all that she had gone through. The story is very compelling and I urge you to find out more about this organization.
Eucharistic Congress Fundraiser
Page 1 of 2