Hong Kong cardinal brings message of Church in China to Boston
---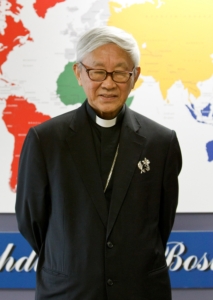 Cardinal Joseph Zen of Hong Kong visited the Boston Archdiocese's Pastoral Center June 18. Pilot photo/ Gregory L. Tracy
BRAINTREE -- Attendees of the weekday Mass at the Archdiocesan Pastoral Center received an unexpected homily on the situation of the Church in China, when the retired Archbishop of Hong Kong celebrated the liturgy there June 18.

Cardinal Joseph Zen, bishop emeritus of Hong Kong, was in Boston on part of a multi-city North American trip to visit local Chinese Catholic communities and to raise awareness about the dire situation for Catholics in China.

His Boston trip included visits with the Chinese Catholic community at St. James the Greater Parish in Boston and officials of the Pontifical Mission Societies of the Archdiocese of Boston, which includes the Society for the Propagation of the Faith.

In his homily at the pastoral center Mass Cardinal Zen said that in Hong Kong, which reverted to Chinese control in 1997 but largely retains British law and governance systems, the Church has relative freedom from control by the Chinese government. But he described the situation in mainland China as "very bad."

"But when we come here to hear the word of God, we always get encouragement. The victory is always on the side of the Lord," said Cardinal Zen.

"The situation of the Church in China is very bad because the atheistic government never changed their policy; they want to control the Church. They allowed the religion to function, but provided they follow always the order of the government."