Seminary unveils new institute for the New Evangelization
---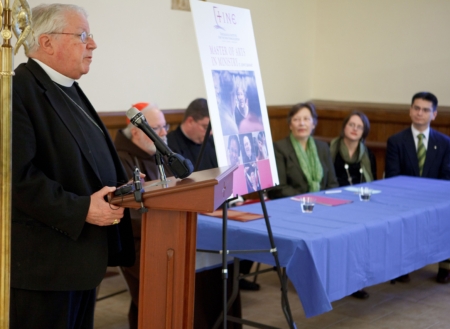 Rector of St. John's Seminary Bishop Arthur Kennedy speaks at the March 17 press conference announcing the new Theological Institute for the New Evangelization and Master of Theological Studies for the New Evangelization degree. Pilot photo/ Gregory L. Tracy
SOUTH END -- St. John's Seminary has announced that they are bringing their programs for non-seminarians -- laity, deacons and professed religious -- together into a new theological institute and expanding their degree offerings to that group.
At a press conference held on the lower level of the Cathedral of the Holy Cross March 17, immediately before the St. Patrick's Day Mass, Cardinal Seán P. O'Malley and officials from St. John's Seminary announced the creation of a new Theological Institute for the New Evangelization.
"It is very fitting we are having this announcement on the Feast of St. Patrick, who is a great teacher of the faith, evangelizer and patron of our archdiocese," Cardinal O'Malley said.
The Theological Institute for the New Evangelization (TINE) is a newly-formed organization that will include existing lay formation programs at St. John's such as the Masters of Arts in Ministry and non-degree catechetical certificate programs. With the announcement of TINE's formation, officials also announced that an additional advanced degree will now be offered through the institute, a Master of Theological Studies for the New Evangelization.
The Masters of Arts in Ministry (MAM) program that trains laity for ministry, now part of the new theological institute, was launched 10 years ago.
Director Aldona Lingertat said that since its formation MAM has graduated nearly 100 students. Currently, the program has 75 degree students and is housed at the former St. Gabriel School on Washington Street in Brighton.
In 2009, the MAM program began a non-degree catechetical certificate program that provides similar training. Lingertat said that about 120 students are pursuing catechetical certificates.
The TINE is now accepting students for fall 2011.
"We know our own culture can be transformed by contact with the Gospel and we need to equip our leaders in the parishes to spread the Good News," Cardinal O'Malley said.
Father Chris O'Connor, vice-rector of the seminary, said the Promise for Tomorrow Scholarship can assist students from the Archdiocese of Boston.
Students from other dioceses are also eligible to enroll in the new TINE.
Page 1 of 2