BC program forms teachers for urban Catholic schools
---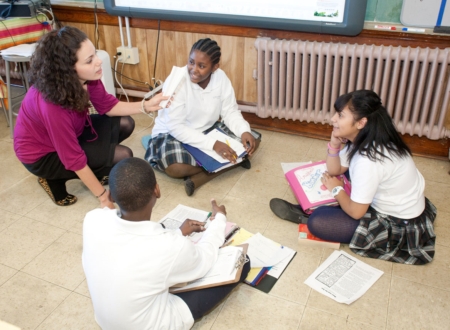 Natalie Lyzinski, a teacher at Pope John Paul II Catholic Academy's Lower Mills campus, discusses a language arts learning activity with sixth grade students Marlisha Amisial, Anabelis Diaz and Ferry Armand. Lyzinski is in her second year with the Urban Catholic Teachers Corps. Pilot photo/Jim Lockwood
DORCHESTER -- Guided by its four pillars -- teaching as service, spirituality, living in community and simple living -- the Urban Catholic Teachers Corps (UCTC) forms young teachers for the Boston-area's urban Catholic schools.
The UCTC, administered by the Lynch School of Education at Boston College, is a volunteer teaching program for recent college graduates with a bachelor's degree in education. Each year, the program places about a dozen teachers in urban Catholic elementary and high schools in and around Boston for a two-year full-time teaching commitment.
Every year, the program includes a 50-50 mix of first and second-year teachers serving roughly ten schools.
Simultaneously, the teachers pursue a master's degree at Boston College in the Lynch School. Teachers begin their master's degree classes after Christmas of their first year.
Program director Karen Kennedy said that she looks for candidates who embody the program's four pillars when evaluating applicants.
"We really want someone who wants to live these values in the UCTC and beyond their own classroom and school culture," Kennedy said.
Some of this year's UCTC teachers said those pillars, as well as the entire experience of being in the program, makes them more effective in the classroom.
"Having the four pillars of the program, you have to find that balance," said Mary Kate McCoog, who teaches fourth grade at South Boston Catholic Academy. "That makes a good teacher -- finding a balance in your life."
"It makes us better teachers," said Sarah Popper, a first grade teacher at Trinity Catholic Academy in Brockton. "Not only are we benefitting but our kids are benefitting from us being in the program."
The UCTC teachers live in the former convent of St. Matthew Parish in Dorchester, which includes a common area, library stocked with teaching materials and a chapel.
Patrick Carpenter, the program's house manager, said that living in community helps the teachers improve personally and professionally. He described it as "13 people all here for the betterment of each other."
Carpenter completed the program last year, but remained as house manager this year. He teaches second grade at St. Patrick School in Roxbury.
"My first year teaching, I couldn't have imagined getting through it without a community," he said.
Kennedy, the program's director, said that communal living enable teachers to brainstorm ideas with one another, and "laugh with and cry with" one another.
Kennedy also said that program's value lies in the quality of teacher it provides the nearby schools.
"What they get is a young, very energetic, passionate and creative teacher," she said. "They get a teacher who is well-trained and ready to take on their own classroom."
Maureen White, principal of Elizabeth Seton Academy, has one UCTC teacher on her faculty this year. White said a benefit of the program for her school is that it creates an environment where rookie and veteran teachers and administrators learn from each other.
"We're a small, nurturing, caring faculty group," White said. "It's a rich fertile soil and when you put the seed in, it blossoms."
The teachers typically return home from school around 6 p.m. for dinner. Every Monday through Thursday, two members of the UCTC cook dinner for the group.
Page 1 of 2